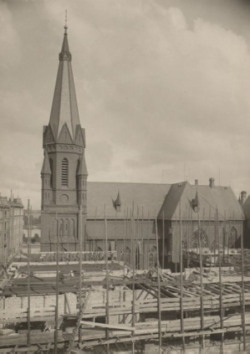 Jesu Hjerte Kirke blev tegnet i nygotisk stil af arkitekt og jesuitterbroder Friedrich Wipfler, som havde arbejdet ved domkirken i Köln, og grundstenen til kirken blev lagt d. 8. april 1893. Den 3. november 1895 blev kirken indviet af Biskop Von Euch, den første katolske biskop i Danmark efter reformationen.
Kirken fungerede som ordenskirke for jesuitterne, som havde og stadig har præsteboliger ved kirken.
I 1941 blev det besluttet at oprette Jesu Hjerte Sogn og gøre kirken til sognekirke.
I 1972 blev kirken moderniseret efter inspiration fra 2. vatikanerkoncil. Hovedalteret og de to sidealtre blev taget ned og det nye alter blev flyttet frem i kirkerummet, så præsten havde front mod menigheden under hele messen. Et sakramentskapel blev indrettet på højre side af alterrummet. Mariastatuen blev flyttet til sin nuværende placering, hvor der sidenhen er genskabt en historicerende nyfortolkning af det gamle mariaalter. Læs meget mere om netop ombygningen på dette link.
Kirkens tre klokker blev indviet d. 15. november 1896. De er bestemt til at ringe på tonerne D, F og G, som er begyndelsen af lovsangen 'Te Deum'. De vejer hhv. 1650, 968 og 703 kg. Klik her for at høre alle tre klokker i funktion.
Orglet blev bygget af G. Stahlhut i Aachen i 1899. Det har nu 31 stemmer og over 1300 piber fordelt over 3 manualer og pedal.
Døbefonten er udført af billedhuggeren Aksel Theilmann i bornholmsk granit.
Ignatius-statuen er udført af billedhuggeren Jørgen Windfeldt-Schmidt som en legemsstor forgyldt træfigur.
Glasmalerierne i kirken er udført af Karl Hertel og fremstillet i Düsseldorf.
Korsvejens 14 billeder er malet i Holland og ophængt i 1897. Efter kirkens modernisering er de anbragt i korsarmene.
Altertavlens opbygning: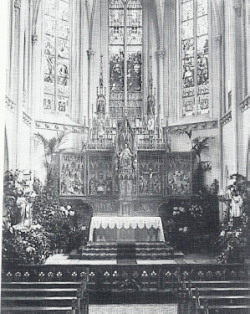 Her er et billede af den gamle indretning af højkoret med den originale altertavle.
Klik på billedet for at se det i stort format
I midterkonsollen så man tabernaklet, hvor de konsekrerede hostier opbevaredes. På den forgyldte dør sås vindruer og hvedeaks, symboler på offergaverne.
Ovenover fandtes stedet, hvor monstransen med den indviede hostie anbragtes til tilbedelse. Til hverdag var stedet lukket med to fløjdøre, der var dekoreret med engle.
Efter ombygningen blev tabernaklet anbragt i et sakramentskapel i højkorets umiddelbare nærhed. Her sidder i dag det originale tabernakel, som er beklædt med de to fløjdøre, der på alteret skjulte monstransen.
Via dette link findes en fortegnelse over de forskellige elementer, den nuværende altertavle stadig består af.